Family Dentistry Care for Patients of All Ages
Pediatric Dentistry
As the proud father of four young men, Dr. Timothy Sluser knows how to put even our youngest patients at ease. Dr. Sluser understands that a patient's first dental experience is important in establishing lifelong healthy habits. We have a toy box to keep our younger patients occupied while they wait, and our friendly hygienist will show children the equipment, explain their treatment, and teach them about healthy brushing and flossing during their appointment.
Geriatric Dentistry
Dr. Sluser knows that senior patients have specific needs, and we can provide them with specialized treatment. By offering sedation options, including intravenous (IV) sedation, we ensure that all our patients can remain comfortable during their treatment, even those with painful medical conditions like arthritis. Our practice offers a wide range of restorative dentistry services to meet the needs of our senior patients, including bridges, crowns, implants, and dentures.
If you suffer from temporomandibular joint (TMJ) disorder, you may experience pain in your jaw and face, shoulder tension, discomfort when eating, and a number of other bothersome symptoms. Knowing the serious affect that TMJ disorder can have on your life, Four Seasons Dental offers effective treatment for mild to moderate cases of the disorder. Dr. Sluser will most commonly prescribe an occlusal mouth guard, which can reposition your jaw and prevent you from clenching your teeth. Orthodontics offer an effective solution in some cases.
Learn More About TMJ Disorder Treatment
Root Canal Therapy
In instances of severe decay or a fractured tooth, the inner pulp of a tooth can become infected, and root canal therapy may be the only way to save the tooth and treat the underlying causes of your discomfort. During root canal therapy, the dentist will remove all infected tissues, thoroughly clean the inside of the tooth, and fill the tooth with a rubber-like material for support. Lastly, a customized dental crown will be placed to protect the weakened tooth against further decay.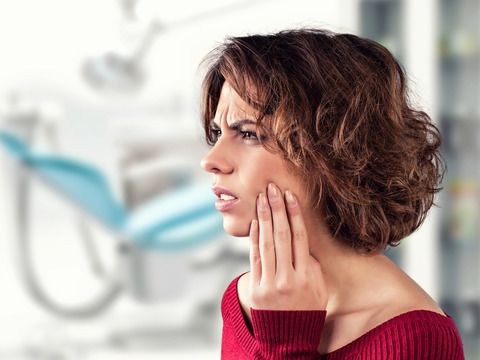 Sensitivity Treatment
If you have very sensitive teeth, it can cause discomfort during dental treatment. Dr. Sluser offers a powerful desensitizing agent that can allow you to receive your necessary treatment with minimal discomfort. Your comfort is important to us, and we will take the necessary measures to make your visit to our office as pleasant as possible.
Preventive Dentistry
Patients of all ages need regular cleaning and maintenance to prevent decay, gum disease, and other dental problems. Dr. Sluser encourages patients to come in at least twice a year to receive a thorough cleaning and examination. He offers regular oral cancer screenings, and for our younger patients, fluoride treatments and sealants to prevent cavities and decay.